It's time for our Area 6 Regular Election.  We will elect a Treasurer, a Secretary, and a person to serve as Chair-Elect for the 2019-2021 term. Many thanks to the Nominating Committee: Sondra Tucker, Past-Chair, Gary Bynum, and Tommy Steadman for their work in securing this excellent slate of nominees.
Voting will be by e-ballot.  As a Guild member, you will be sent a link to the ballot, and you will need to know your Membership Number and password to log into the handbellmusicians.com web site.
---
Sheri Roach
Candidate for Chair-Elect
SHERI ROACH has served as Chair of Area 10, and also has served as Alaska State Chair, bringing a wealth of experience and perspective to the job of Area 6 Chair-Elect. She has an academic background in biology and science education, and is retired from a 24-year career as a K-12 public school teacher.
Now living in the Nashville area, Sherilyn's lifelong passions for learning and sharing continue to take her down new, exciting paths every day and she looks forward to getting to know the handbell community in Area 6.
Jessica Laurel
Candidate for Chair-Elect
JESSICA LAUREL is a ringer from North Mississippi.  She has fourteen years of experience in her church handbell choir, and served as assistant director of music, in addition to her day job as a pediatric nurse.  She loves handbells and is excited about the opportunity to serve on the Area 6 Board.
Shane Kennedy
Candidate for Treasurer
SHANE KENNEDY is the current Treasurer for Area 6 and is running for a second term.  In addition to his superb bookkeeping expertise, he is Worship & Fine Arts Associate at Trinity United Methodist Church in Huntsville, a position he has held since August 2002. A native of Folly Beach, South Carolina, he completed a Masters of Music degree in vocal performance and church music in 2008 from Belmont University in Nashville. He directs the handbell and youth music ministries at Trinity, and is currently the artistic director of the Heritage Ringers of Huntsville, an auditioned community handbell choir. Previously, Mr. Kennedy was a member of the Atlanta Symphony Orchestra Chorus from 1997-2002 under directors Robert Shaw and Norman Mackenzie. He has performed numerous tenor lead solos for local theater, church and university productions.
Ben Tucker
Candidate for Treasurer
BEN TUCKER  graduated from the University of Memphis with a Bachelors Degree in Music with concentrations in Music Education and Trumpet Performance. He was band director at Bon Lin Middle School and is currently on the board of the West Tennessee Handbell Association.  He lives in Memphis with his wife and their pets Shadow and Pepper.
Nancy Kemper
Candidate for Secretary
NANCY KEMPER has been the handbell director at Jones Memorial United
Methodist Church in Chattanooga, Tennessee for more than 30 years. She also
has played in the Metropolitan Handbell Choir in Chattanooga, which is a
community auditioned choir. She has served on the board of AREA VI in the past
as Tennessee State Chair, Secretary, and Chair. She currently has two
handbell choirs at Jones Memorial, one adult and one youth choir.
Julie Turner
Candidate for Secretary
Since its inception in 2006, JULIE TURNER has been the Associate Conductor, Composer in Residence and a ringing member of Music City Bronze, Nashville's advanced community handbell group under the direction of Principal Conductor and former Handbell Musicians of America National President, John Pfeiffer. Julie has been a member of the group's Board of Directors since 2007 (initially as an at large member and later and currently as Recording Secretary) and assisted in authoring the group's bylaws and Ringer Handbook. Julie has directed the handbell choirs at her church in Nashville since 1999. She holds a B.A. in Music from Cumberland University and was a contract music engraver for the United Methodist Publishing House for nine years.  Julie has over 40 published handbell arrangements and compositions and was named Composer of the Year in 2009 by Jeffers Handbell Supply.  Over the years, Julie has had the privilege and pleasure of serving as clinician for several handbell festivals and workshops throughout the country. In the non-musical part of her life, Julie recently retired after working 19 years for the Tennessee Supreme Court's lawyer disciplinary agency, the Board of Professional Responsibility. Prior to that, she was a corporate Human Resources professional specializing in employee benefits. Julie and her husband Jim have lived in Nashville for many years where they raised their two grown children, Dylan and Mallory.
Area 6 Online Voting Instructions for Regular Election
Area # of Handbell Musicians of America is handling all voting for its area board elections via electronic, online ballot.  To vote, members will need to log in to their member account, enter their selections in the online ballot, and submit it to confirm their selections.  Below are step-by-step instructions for voting.  But first, here are answers to some basic questions about the process.
When can I vote?
The voting period is JULY 17 – AUGUST 6.  Beginning at 7:00am (Central) on JULY 17, the VOTE NOW buttons on this page will go live, and the online ballot will be available for casting your vote.  The VOTE NOW button will disappear, making the ballot unavailable, at 11:00pm (Central) on AUGUST 6, 2019.
How do I access my online account?
If you are a member, you already have an account.  You simply need to enter your user name and password in the spaces indicated at the very top of this screen or when prompted after clicking the VOTE NOW button,  to access it online.  If you've forgotten your password or haven't yet created a username and password, follow these simple steps. Go to the national website, www.HandbellMusicians.org, click on the "Log In" link.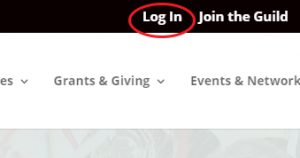 2. This will take you to the login page. If you've never logged in before, but you are a current member, then you already have an account. Since an account has already been created for you, DO NOT click on the "Create Account" button. Instead, click on the "Forgot Password" link.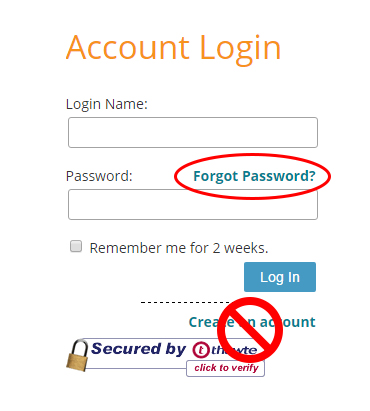 3.  This will take you to a page titled "Help with My Account"   This page is the place to be even if you haven't yet set up your username and password. You must enter the EMAIL CONTACT YOU PROVIDED WHEN YOU JOINED. If you are not sure what email address is on your account, or you have not yet provided an email address, please contact the national office by email at webmaster@handbellmusicians.org or by calling 937-438-0085.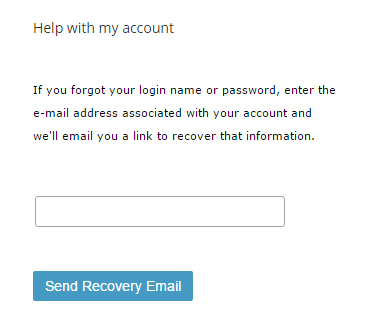 4. Once you have entered your email address, click on "Send Recovery Email." 5. This will generate an email message to the address you provided with a link to reset your password. Your login name is your email address.
What if I don't remember my username and/or password?
Follow the steps above.  An email will be generated to the email address provided with your log in credentials.
What if I don't have access to the Internet?  Is there another way vote?
To ensure each member only votes once, and to maintain the security of the voting process, only votes submitted through the online ballot will be accepted.  If you do not have a computer or Internet access at home, we recommend you utilize the computer services offered by your public library or seek the assistance of a friend or family member.
Where can I find information about the candidates?
Biographies and photos for each candidate are included Facebook page of Handbell Musicians of America – Area 6 . That information is also available at http://www.area6.handbellmusicians.org/front/2019-board-elections/.
How to Vote
Carefully review all candidate information and make note of your choices in each category before moving to the next step.
When the VOTE NOW button is active, between JULY 17 and AUGUST 6, 2019, click that button.
If you are not already logged in to your member account, you will be prompted to log in.
After logging in, you will be automatically directed to the voting ballot.  During the log in process, the system will confirm that you have not already voted and that the account you've logged in to has a current membership that includes voting privileges.
Carefully make your selections for ONE PERSON to fill the position of Chair-Elect, ONE PERSON to fill the position of TREASURER, and ONE PERSON to fill the position of Secretary.

Review your ballot carefully to make sure it is correct.
Click submit at the bottom of the ballot to enter your final vote.
Once submitted, a vote cannot be changed or edited.  National and area staff and board members do not have access to the ballot or to submitted votes.
Votes will be counted and results calculated by the NEON database system and cannot be accessed or altered by staff or board members of Handbell Musicians of America.
Election results will be announced by the Area Board on or before AUGUST 15, 2019.
If you need assistance logging in to your account or setting up your username and password, please contact the national office at webmaster@handbellmusicians.org or by calling 937-438-0085.